Upcoming First Aid Training
Upcoming Professional Responder Courses - Pickering, Ontario
---
Testimonials
I would recommend this company to anyone looking for certification in EMR. It is a lengthy course and the knowledge base is very demanding. I found that Swift Response provided a very good balance of education styles. This really helped me with the enjoyment and understanding of the required materials. I look forward to coming back to this company when I am eligible to re-certify.

Patrick Boone
For anyone looking for the best of the best company to enroll yourself in, you are in the right place. Steve and his team namely Lexi, Tim, Shannon and Tyler are very talented in what they do and they have a lot of patience in explaining things and also they do it in a way that's easier to understand.

Selvi M
I took the wilderness first aid training and it was great! I found the teaching approach to be very hands on and practical, testing skills through scenarios and lots of wilderness tips and tricks that you might not normally see in a standard first aid course.

Sarah Murphy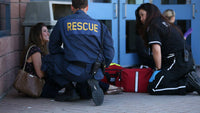 Training for your organization
We provide Red Cross certified First Aid, CPR/AED training, Psychological First Aid, Remote and Wilderness First Aid, as well as Professional Responder training for private groups, at your location or ours!
Contact us for more information or to request a quote!
Learn More
Who We Are
For almost 10 years, Swift Response has been preparing the next generation of first responders, and making high quality training assessable to the general pubic.
Since our launch we have trained thousands of students and professionals through our First Aid, Wilderness and First Responder and EMR programs.
Quality is our top priority. It's not just about getting a certificate; we make sure students learn the skills and can perform them under pressure, preparing them for real world situations. Our instructors are field experienced professionals with a passion for medical response. We go above and beyond to help our students learn and succeed.
Swift Response is a Canadian Veteran owned and operated company and a certified Canadian Red Cross Training Partner. We are located in Pickering Ontario.