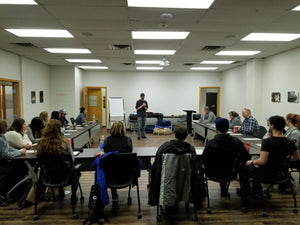 Psychological First Aid
Regular price $91.00 Sale
This certification course teaches the effects of stress, loss, trauma and grief. It has an emphasis on self-care and personal protection, as well as providing care for others.
Learners will be introduced to the Red Cross Look, Listen, Link, Live model - a resiliency-building approach to emotional, psychological, and social wellbeing that teaches learners how to support themselves and others to cope with the effects of various types of stress. The course uses primarily case-based learning and includes the latest evidence from the international community.
This course is for anyone who wants to practice self-care, learn to care for others, and requires a valid workplace ready certification in this field. 
This course is suitable for all audiences (Youth, Workplace, Professional Responder)
Location
Swift Response Pickering
1815 Ironstome Manor, Unit 14a
Duration
45-90 minutes online learning and 7 hours in-class
Certification
3-year certification in Psychological First Aid
Course Content
Case-based learning and discussion will be tailored to the audience and include the following content:
Introduction to Red Cross
Case Studies
Psychological First Aid
Operational Principles
Stress, Distress
Loss and Grief
Trauma
Indicators
Vulnerable Populations
Supportive Communication
Look, Listen, Link, Live
Resiliency and Protective Factors
Protection
Policies, Legislation
Self-Care
For more information, please contact us.