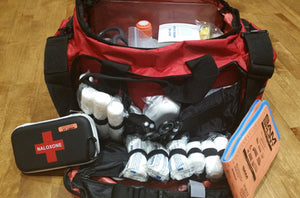 First Responder to EMR upgrade course - Pickering, Ontario
Regular price $413.00 Sale
Sign up today for Swift Response's Red Cross Certified First Responder to EMR (Emergency Medical Responder) upgrade course.
Hear what our students are saying about us! Read our Google Reviews
Can't find the dates you are looking for? Contact us to mix and match course dates to work with your schedule!
Our students are our top priority.  It's not just about getting your certificate; we want to make sure you learn the skills, and can perform them under pressure, preparing you for real world situations.  Our instructors are field experienced professionals with a passion for medical response. We go above and beyond to help our students to learn and succeed. 


Location:
Swift Response
1815 Ironstone Manor, Unit 14a
Pickering, ON  (Map)
Duration: 40 hours
Time: 8am to 6pm on weekends (unless otherwise specified)
Free parking
About the First Responder to EMR Upgrade Course:
This course provides the skills and knowledge to help sustain life, minimize the consequences of injury or sudden illness, and reduce pain in an emergency situation.  The Emergency Medical Responder course is ideal  for first responders such as firefighters, police, and emergency service personnel who function as a member of the health care team in a pre-hospital setting. 

Included in this course is BLS (Basic Life Support) and AED. Swift Response's Emergency Medical Responder course meets the Paramedic Association of Canada National Occupational Competency Profiles for the practitioner level of emergency medical responder (EMR).
Prerequisites   
Current First Responder certification
Completion
100% attendance, skills demonstration, two evaluated scenarios, and 75% min. passing grade on written exam
Certification   
3-year certification in Emergency Medical Responder, 1 year certification in Basic Life Support (BLS) from the Canadian Red Cross
Course Content   
Part 1 – Preparing to Respond
> The responder
> The emergency scene
> Preventing disease transmission

Part 2 – Establishing Priorities of Care

> Anatomy and physiology
> Assessment
> Respiratory emergencies
> Airway and ventilation
> Circulatory emergencies
> Bleeding
> Shock
> Pharmacology
Part 3 - Traumatic Injuries
> Soft tissue injuries
> Musculoskeletal injuries
> Head and spine injuries
> Chest, abdominal, and pelvic injuries
Part 4 – Medical Emergencies
> Sudden illnesses
> Poisoning
> Heat- and cold-related emergencies
Part 5 – Special Populations and Situations
> Special populations and crisis intervention
> Childbirth
> Reaching and moving patients
> Multiple casualty incidents
> Transportation
> Workplace
Includes BLS
Includes any other content required by specific legislation