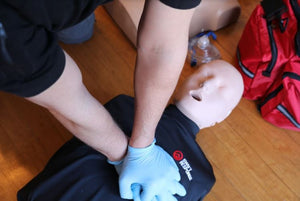 Standard First Aid and CPR/AED Level C Blended - Pickering
Regular price $90.00 Sale
This blended online course from the Canadian Red Cross is made up of two parts - the online and the in-class component. 
When signing up for this program, you are signing up for both the online and the in-class components.  
The date that you are choosing is the date of the in-class component.  For the online component, you will be given access to this within three days of registering.  You can work on the online modules at your own pace, whenever works for you. 
Location: 
Swift Response
1815 Ironstone Manor, Unit 14a
Pickering, ON

Free parking available.

About the Standard First Aid and CPR Program:
This course covers a wide range of first aid and CPR skills through a comprehensive two-day course. This course is appropriate for people who want to be able to knowledgeably respond to emergency situations at home, or at work.  This training includes the current first aid and CPR guidelines, and meets the legislation requirements for provincial/territorial worker safety and insurance boards.
Instructor
All Swift Response courses are taught by field - experienced instructors, trained at an advanced level. All instructors are certified by the Canadian Red Cross.
Completion 
Ability to comprehend and successfully demonstrate all required skills, including critical steps;
100% attendance and participation; 75% min. passing grade on a written, closed book knowledge evaluation; and adherence to the Fundamental Principles.
Certification
3-year certification in Standard First Aid, CPR Level C, and AED from the Canadian Red Cross.
Course Content
Preparing to respond
Legal issues around first aid
The Emergency Medical System (911)
Partial, complete and unresponsive choking
Breathing and Circulation emergencies including asthma, allergic reactions, heart attack and stroke
CPR and AED
Care for a wide range of different wounds
Head, neck and spine injuries
Bone, muscle and joint injuries
Sudden Medical Emergencies including mental health emergencies and childbirth
Heat Cramps, Heat Exhaustion and Heat Stroke
Hypothermia and frostbite
Drowning
Poisons, drug overdose or alcohol poisoning
Bites and stings
Includes any other content required by specific legislation