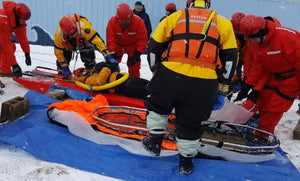 Ice Rescue - Operations Level
Regular price $489.00 Sale
Ice Rescue Operations Level is an ice rescue course suited for those who may be required to participate in shore based rescues or part of the shore team during a technical level rescue. During this course students will learn and practice shore based rescue techniques, rescue communications as well as further develop skills in self rescue situations and first aid for cold emergencies.
Ice Rescue Operations level includes and builds upon the Awareness level training. There are no prerequisites for this course.
Day 1 is focused on theory and information on how to identify hazards and what to do in an emergency.
Day 2 is spent in the field, practicing skills and using information learned in day 1, including demonstrating self-rescue.
Day 3 is spent in the field, and is focused on Operations Level rescues. Review of shore based rescues and practice contact rescue.
Day 4 is spent in the field and builds on skills already learned, with practical and hands-on scenarios. Testing takes place at the end of day 4.  
Instructor:
Swift Response instructors are made up of experienced military, fire, and veteran rescuers who know the ins and outs of proper rescue procedures and techniques, providing real world training for real life situations. Safety is our top priority.
Certification:
Swift Response certification confirming completion and demonstration of the skills under NFPA 1006
There are currently no upcoming courses booked, however we are able to provide courses for private groups of 6 or more.  Please reach out to us to discuss program options and dates that work for you and your group.